Mari Keski-Korsu is a post-disciplinary artist and doctoral researcher who explores macro-level manifestations of the ecological polycrisis. Her work is based on multispecies collaborations and her medium of expression is a hybrid combination of participatory performance, visual and live art. Her practice involves intuitive interspecies communication, hydrobodily care and walking methodology to possibly enable empathy towards whole ecosystems. She is a doctoral researcher to study towards Doctor of Arts degree in Aalto University's School of Arts, Design and Architecture, Department of Art and Media, supervised by Laura Beloff. Her research focuses on multispecies ritualisations in change in the (sub)Arctic and she is an artist member in interdisciplinary research group working in Abisko Scientific Research Station in Access Abisko program.
Mari's works have been exhibited internationally for the past 20 years in festivals, galleries, museums and outskirts. She has been collaborating with Bioart Society for a decade and worked as an artistic director of Pixelache festival (Interfaces of Empathy 2016). She holds a MA from University of Arts and Design Helsinki (Medialab) and BA in visual arts from Polytechnic of Western Lapland. She is a specialist in steam bathing treatments and ceremonies and teaches traditional sauna practises. 
Current research activities can be found here:
https://research.aalto.fi/en/persons/mari-keski-korsu
Some articles online:
'Finding 'skinship' with trees' by Regine Debatty (we-make-money-not-art blog)
'FiR Artist Interviews: Mari Keski-Korsu – Humanity, empathy and alpacas' by Tessa Aarniosuo (HIAP)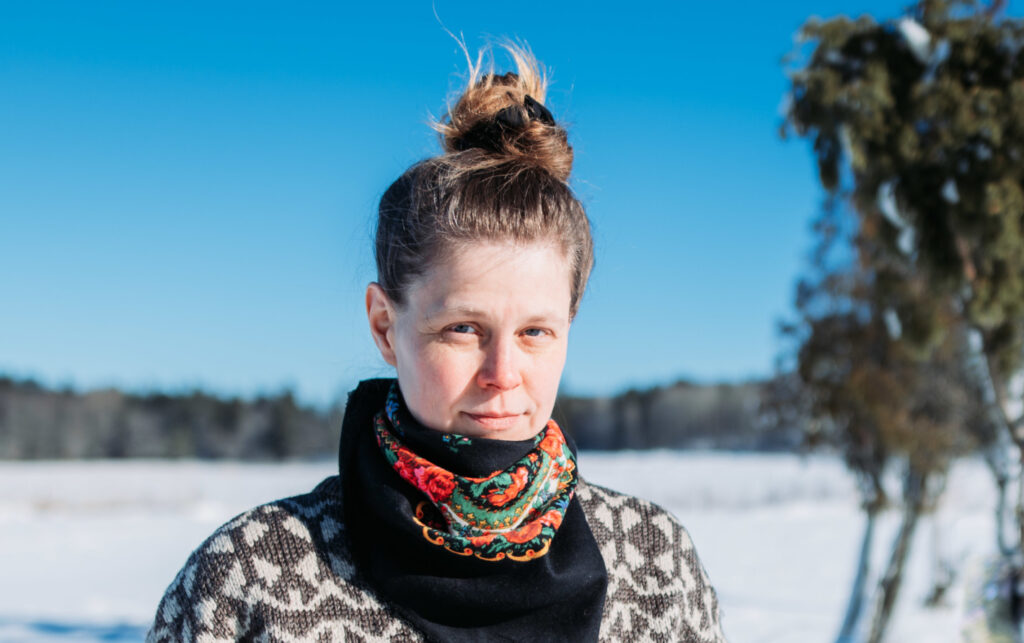 Photo by Jussi Virkkumaa / Saari Invited Artist Programme, 2023.